ON-AIR PORTFOLIO: BREAKS & IMAGING

Program Director, Music Director, On-Air Personality, & Imaging Design

STATIONS:
THAT I'VE BEEN ON

​MIKE McCABE

Multi-format


Personality and Programmer with a passion for audio and amazing radio in the PPM world.

Program Director:

Announcing soon.
​

On Air Personality:

Announcing soon.
​

TECH

WideOrbit, iMediaTouch, MusicMaster, Adobe Audition, SoundStudio, Triton Digital, Second Street, Microsoft Office, Google Docs, Radiologik Auto & Scheduler, NewsBoss, Nicecast, Audio Processing, Basic Audio over IP, SDS Traffic, Windows, Mac, Basic studio and network wiring, AdSense, HTML, CSS, WordPress, and basic broadcast engineering technology.
​

EDUCATION

With a focus on humanities and social policy, I graduated from Elmira College in December 2017 with a degree in Human Services and Policy. I served on the Executive Board of the college's radio station.
---
---
Powered by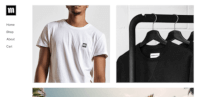 Create your own unique website with customizable templates.