So it's one of these things where your originally thinking, well, who in hell cares? So what? It's white? You'd be correct. It is white, and has no other special usage that the chrome and black don't have, it's simply a new colour. So, why do I love it? (I think I've said "so" about 7 times so far in this post haha) It's different. I remember when iPhone came out in like 2006 or 2007, and like NO ONE had it, so if you had it you were special. When they came out with the 3G model, more people bought it, because they dropped the price- by a lot. Then they came out with the 3GS model with a few little additions including the white iPhone. I think only the real hardcore Apple fans got it, the white iPhone. The iPhone 4 came out last year, and didn't have a white version, all of us white iPhone fans were all like WTF APPLE!? Hardcore Apple fans don't want to fit in with those PC users, and their new fangled iPhones, but they love the iPhone? So, Apple's gotta go to themselves and be like let's make a white one, that is only available in 16 gigs so the little non-Apple fanatics don't get it.

---

That's what happens. People who just want the iPhone to have an iPhone and feel like an Apple junkie probably won't spend that extra hundred or so to get a different colour, when they don't 'need' it. So, I think it's just for those cool REAL Apple junkies who want to stand out from the crown of chrome and black iPhone users. It's one good use- a new colour, and if it breaks, nothing (haha).
Powered by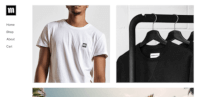 Create your own unique website with customizable templates.